McLean, VA, Real Estate: What You Should Know Today
Updated August 2021
Buyers looking at homes for sale in McLean, VA, in Fairfax County are probably already familiar with some simple facts about the region. For example, most buyers who enter this housing market are aware of the easy commute to D.C. and other transportation conveniences.
However, living in McLean is about more than just an easy commute! From exploring different housing types in this community to seeing what kind of activities you can enjoy here, it's time to get to know McLean a little bit better.
Living In McLean, VA
Located only 10 miles from Washington, D.C., McLean is an affluent Northern Virginia community that is home to many high-ranking government officials, diplomats, and members of Congress. The community was founded in 1905 when two smaller communities merged to form one.
While the cost of living and McLean real estate market prices are higher than in many U.S. cities, there are numerous advantages to living here. The area is extremely safe, the schools are top-notch, and dining and shopping options are plentiful.
Overall, McLean is a gorgeous Northern Virginia community with a lot to offer its residents.
Schools In McLean, Virginia
Those who purchase McLean real estate will have access to several of the nation's top schools, including McLean High School, Langley High School, Chesterbrook Elementary School, and more.
All of these schools are part of the Fairfax County School District. To learn more about how school assignments work and what geographic regions attend each school, visit the district's website or contact them directly.
Purchasing Property In McLean
You'll find high median values of homes in McLean, VA, and the housing market is competitive. Just like most areas in Northern Virginia, properties move pretty quickly, and you should have an idea of what types of properties are on the market before you start house hunting.
No matter what kind of home you choose in the McLean real estate market, you know you are getting a wonderful home in a great little city. Schools are fantastic and the area is safe.
Folks in McLean enjoy strolling through the neighborhood and stopping to meet new neighbors. Life in McLean is as near to perfect as you can get—maybe that is why so many people choose to call this part of northern Virginia their home.
Homes For Sale In McLean
Although McLean real estate can be pricey, you can still find some homes for far less than a million dollars.
Many people buy a lot to build their own home, which can cost upward of $500K. Most of the homes in the McLean real estate market priced below a million dollars are fixer-uppers. Those with the skills, time, and money will find these bargain homes to be the perfect fit.
Neighborhood Feature: Beverly Manor
Homes in the Beverly Manor neighborhood range from fixer-uppers in the high $600Ks to homes costing millions. The three-, four- and five-bedroom homes in this neighborhood are an assortment of beautiful residences built throughout the years.
You can find older red-brick homes that were built in the 1960s and '70s, homes built in the '80s and '90s, and stunning 5-bedroom homes built in just the past few years.

McLean has great lifestyles to offer
Find McLean VA Detached, Single Family Homes under $850,000
Neighborhood Feature: Salona Village
Some of the more costly homes in the McLean real estate market can be found in the Salona Village neighborhood. A walk through this picturesque area is a walk through time: Some of the red-brick homes in the neighborhood were built in the late 1950s.
Some of these are renovated before re-selling, but a lot of them are sold "as is" and can be purchased for less than a million dollars. Lot sizes vary in this neighborhood, but newer homes have grown larger regardless of their lot size.
McLean Inspiration Houses
Be sure to stop and admire the gorgeous gray stone home on Julia Ave. This 6-bedroom, 7-bath home contains four floors of luxurious living. Curb appeal is everything with this beauty: From the wraparound balcony and sweeping front staircase to the abundant windows and stunning landscape, there is nothing to dislike about this beautiful stone house.
Another beauty in the McLean real estate market around the same price range ($3 million) is located on Gilliams Road. Set back some from the street is a large (7,178-square-foot) red-brick home that was built in 1988.
This towering four-story residence has six bedrooms and nine bathrooms! Your view from the street will show you a home that has been well maintained throughout the years. The house and landscape are worth a look while you search for your dream home in the McLean real estate market.
Find McLean VA Detached, Single Family Houses from $850,000 to $1,000,000
The McLean area contains similar neighborhoods filled with a mix of old and new homes. Whether you want a smaller 2-bed, 1-bath home or a luxurious mansion with 6+ bedrooms, a drive or stroll through various neighborhoods will likely reveal your perfect home.
Condos For Sale In McLean
Condos across the McLean real estate market vary in size and appearance, but no matter where the condominium complex is located, the school system is going to be excellent.
Community Feature: Lean Hills Condominiums
The McLean Hills Condominiums offer a wide selection of one-, two-, and three-bedroom units in a nice neighborhood. Built in 1967, these condos are completely renovated before new owners take possession. One-bedroom, one-bath units can be purchased for less than $200K. Cathedral ceilings and private balconies make these cozy condos feel spacious and homey.
Some 3-bedroom, 2-bath condos have a private jacuzzi in the master bathroom. Large open floor plans, hardwood floors, and stainless steel appliances are just a few of the great features in the largest units in the Lean Hills complex.
These units cost around $350K, making them very affordable homes for smaller households. Close to highways and within walking distance of Tysons Corner, this complex has much to offer those looking for condos in a lower price range in the McLean real estate market.
Find McLean VA Condos under $350,000
Community Feature: The Gates Of McLean
Over on Spring Gate Drive, there is a beautiful condo complex called The Gates of McLean. This gated community is only one block to the nearest McLean metro stop, making it a convenient place to live for those who want to commute to the capital but leave their car safely in the garage.
The Gates of McLean has one-, two-, and three-bedroom units in the four-story red-brick building. Each unit has a private, fenced-in patio. Built in 1997, these highly sought-after condos are renovated before move-in. With affordable units located minutes from restaurants and shops in Tysons Corner, this complex is only minutes away from three highways.
A swimming pool, basketball court, sauna, fitness center, and theater are amenities that residents of The Gates of McLean enjoy.
Community Feature: One Park Crest
In a north-central neighborhood of the McLean real estate market, there is a towering high-rise called One Park Crest on Crestwood Heights Drive. These gorgeous condos are priced in the highest range at well over a million dollars for any available unit.
Residents of One Park Crest do not mind the steep price point because they enjoy the finest features, open floor plans, premium finishes on all surfaces, and some of the most spectacular views of Washington, D.C. and the surrounding countryside. Residents on the upper floors enjoy watching the sun rise and set from the comfort of their living rooms.
Townhomes For Sale In McLean
The McLean real estate market also offers beautiful townhomes. Townhomes are often priced over $500K in this area, but some communities have prices that fall below this average. Search the area to find out if any townhomes will fit your budget.
Townhome Feature: Westind Way
Some townhomes on Westwind Way may be purchased for less than $400K. These units are completely renovated from top to bottom. Built in 1972, townhomes in The Westerly feature beautiful hardwood floors, large kitchens with dining space included, and carpet upstairs.
Residents enjoy their swimming pool throughout the warmer months, and their homes are close to metro stops, shopping, restaurants, and other amenities found in Tysons Corner.
Townhome Feature: Hallcrest Heights
For a few hundred thousand dollars more, those interested in McLean real estate could buy a charming home in the Hallcrest Heights community. Some of these three-story homes have beautiful hardwood floors on the upper two levels and tile on the basement level.
Built in the early 1970s, these larger townhomes have generously sized fenced-in private patios for plenty of outside entertainment.
The beautiful 3- and 4-bedroom homes in this neighborhood are ideal for larger households who enjoy spending time outdoors. Close to freeways and stores, many people want to live in this area of McLean , so keep a sharp eye out for any McLean real estate opportunities in this part of the city.
Find McLean VA Townhomes under $750,000
Townhome Feature: Evans Farm
If you have a couple million dollars to spend in the McLean real estate market, you could purchase a gorgeous townhome in the Evans Farm community.
These four-bedroom, five-bathroom townhomes built in 2004 offer wonderful features including elevators, master suites, and two-car garages. Located in mostly gated communities, these townhomes often have top-of-the-line fixtures, flooring, and appliances.
Other Great Areas
You can spot premium townhomes for sale throughout the McLean market. From Skipwith Road to Farm Meadow Court to Stuart Robeson Drive, you can find beautiful, mostly red-brick townhomes in the highest price ranges. These homes will offer the most space and amenities.
MerryHill on Stuart Robeson Drive has large 8,000-square-foot homes. The four-story townhomes have two fireplaces, high ceilings, in-law suites, and so much more. The well-maintained outdoor areas are fantastic places to entertain, day or night. Close to metro stops and shops, these large townhomes are perfect for those who enjoy dozens of personal amenities within the comforts of their own home.
Things To Do In McLean, Virginia
Living somewhere is about more than just the house you're in; it's also about where you spend your time. Check out what there is to do in McLean and surrounding towns before you start seriously considering the area. This will help you get a sense of whether you can create the type of lifestyle you dream of in this part of Northern Virginia.
Dining In McLean
Those who purchase real estate in McLean have numerous excellent options for dining. Regardless of what you are craving, there is certain to be a restaurant that will leave you completely satisfied.
J. Gilbert's Wood-Fired Steaks and Seafood offers perfectly cooked steaks, bone-in pork chops, scallops, salmon, and more. Amoo's House of Kabob is said to serve the best lamb you will ever eat. Lost Dog Café is the perfect spot if you are looking for a quick yet delicious sandwich. For Italian, head over to Listrani's Italian Gourmet for eggplant parmesan, calzones, lasagna, and much more. Of course, this is only a small sampling of the dining options in McLean, meaning you never have to cook at home.
Shopping In McLean
High-end shopping is easy to find for those who purchase McLean real estate.
Tysons Corner Center is the largest mall in the Baltimore–Washington area, with more than 2.4 million square feet of retail space including stores such as Abercrombie & Fitch, Bloomingdale's, Crate & Barrel, Macy's, and Swarovski.
Tysons Galleria is another upscale mall with options including 7 For all Mankind, Lilly Pulitzer, Michael Kors, Mulberry, Prada, and De Beers. In addition, the mall has several relaxing day spas where you can treat yourself, including the Ritz-Carlton Day Spa and Salon & Spa at Saks Fifth Avenue.
Other Enjoyable Activities
For outdoor fun, many people who own McLean real estate head to Great Falls National Park. There are gorgeous views, plenty of hiking opportunities, kayaking opportunities, areas for rock climbing, a beautiful trail along the Potomac River that is perfect for dog walking, and more. You can truly spend all day mesmerized by the stunning picturesque sights.
There are options for indoor fun as well. IMAX theaters, 1st Stage Theatre, Regency Sports and Health Club, and the Lego Store are great places to spend rainy or cold days.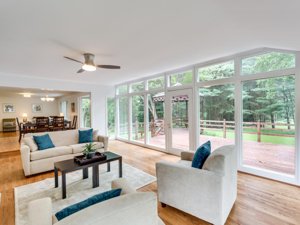 McLean VA Real Estate For Sale
McLean Real Estate FAQs
When is a good time to buy in McLean or Northern Virginia?
On the one hand, you'll see more property options come on the market in the spring, but you'll also find more competition, as a lot of other buyers will be looking during this time as well. In the winter, the market usually slows down a bit, but you won't typically find as many property options during the cold months.
What are property taxes like in McLean, VA?
Part of Fairfax County, McLean property taxes are usually slightly above the state average rate but on par with other parts of Northern Virginia. On a $300,000 home, you can expect to pay just under $3,000 annually. However, tax rates are reassessed yearly and will depend on the real estate's exact location.
How did McLean get its name?
John Roll McLean, who was once the owner and publisher of The Washington Post, is the namesake of McLean, VA.
Beyond McLean, VA, Homes
All that this area offers, combined with the selection of absolutely stunning homes in the area regularly attract homebuyers and news residents to the McLean real estate market.
If you want to explore housing options in McLean or in other parts of Northern Virginia, link up with an experienced agent, like our team! Call us at 703-462-0700. Real estate agents familiar with your target areas will be able to effectively help you discover the perfect house to become your future home.